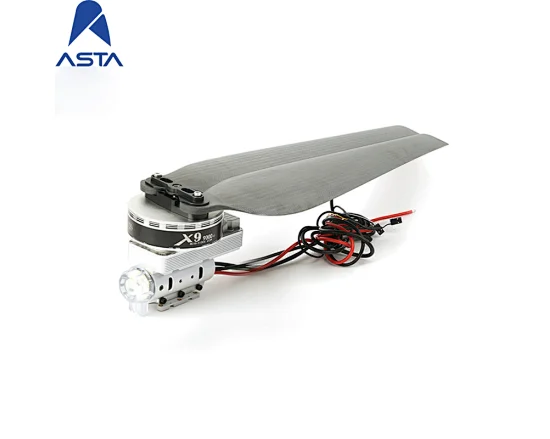 Propulsion system X9
X9 strong power system for 30L payload drone
Propulsion system X9 combo with an light-weight structure design integrates motor.
ESC and motor mount together to make the installation & use simple and easy.
(Note: the carbon fiber tube with a diameter of 40mm is needed here.)
X9 Agriculture Drone Power System Attentions:
* Always keep your drone away from crowd, high-voltage power lines and obstacles, fly yourdrone in accordance with relevant safety regulations.
* Never get close to the high-speed rotating propeller & motor, otherwise you may get hurt.. Check if all the parts are in good condition before use. If there exists any damaged part,please contact the factory for replacement.
* Check if any screw for connecting the parts is loose and the motors are horizontal before each flight.* The bore diameter of the arm for the X8 power system is 35mm, if you want to use the30mm tube, then install the tube adapter (included in the product box) into the projectingtube on the motor mount first.
* You can change the light color of the LED set. In that case, you need to disassemble thelight cover and slide the DIP switches accordingly
* You can rinse the motor with fresh water after each flight to keep it clean.