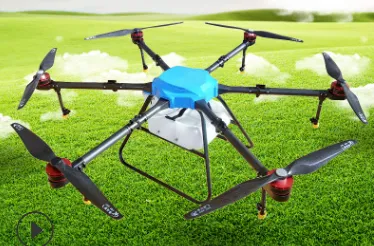 A multi rotor is a rotary aircraft with more than two rotor systems, typically unmanned. Multirotor is the general term for any unmanned system that isn't a traditional helicopter. Examples being: tricopter, quadcopter, hexcopter, octocopter, etc…Since there are such a wide variety of rotor systems, it's easier to classify everything into a common group called multirotors.
Agriculture drones are not your run-of-the-mill consumer-grade camera drone or racing drone. They are advanced data-gathering tools for serious professionals.  Prices for complete, ready-to-fly ag drone systems range from $1,500 to well over $25,000.
Flying a multi rotor drone, low and slow, gives you far more control over every image you shoot. As a result, accuracy and resolution are often better than fixed wing UAVs can deliver.
ASTA 22 L Agricultural Crop Spraying UAV   is a battery-powered unmanned aircraft, easy to learn and operate. The aircraft weighs 15kg without load and no-load flight time is 25 minutes. With full load of 22L of water or pesticide, it takes off and lands within one minute, and maxim flight time is up to 16 minutes. Operating spraying efficiency is 3-6 m/s. 
With this unmanned aircraft greatly improved spraying efficiency, covaering 2.7 hectares per hour. Agricultural sprayer can reduce 30% to 50% amount of the pesticide compared with manual spraying. Fertilizer drone do not influenced by terrain and crop height, remote control, low altitudes flight, no harm to crop. It can be used for all kinds of crops in farm, orchard and sterilizing in waste yard.
Precision aerial application will result in more judicious use of pesticides,thereby satisfying environmentalists, legislators and farmers. Large farms typical of the US and parts of China will benefit greatly though the use of these technologies. Small farmers could use precision agriculture technologies by a cooperative system to urgently deal with some areawide pest management issues. Pre-cision aerial application will allow for the targeting of inputs to specific areas of fields,enabling farmers to remain successful in an increasingly competitive industry.